ISGINTT news
March 2011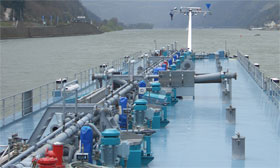 Sponsoring
The chairman of the ISIGNTT SC, Dr. Jaegers, has sent a letter to potential sponsors to require financial support for the translation of the ISGINTT into Dutch, German and French.
A first donation has been announced: the Centraal Bureau voor de Rijn- en Binnenvaart (CBRB) announced a donation of 4,500 EUR minimum.
Organisations as well as private persons can sign the ISGINTT Sponsorship Commitment. Their name, the amount contributed and a link to their website will be mentioned on the ISIGNTT website and in the safety guide itself. (Find more information here.)
Translation
OCIMF has sponsored the French and Spanish translation of the checklists. They will shortly be available on the website.
The working groups are requested to provide translations of the Annexes of the ISGINTT safety guide into German and Dutch.
Volunteers are requested to support the linguistic check of the translations and to contact the Secretariat.
ISGINTT safety guide
Some industries and ports already apply the ISGINTT safety guide.
Paper versions of the ISGINTT are available on request.
Since June 2010 the ISGINTT document has already been downloaded about 1,500 times from the ISGINTT website.
ISGINTT website
Suggestions for information, interesting news and technical questions to be put on the website can be sent to the Secretariat.
Until January 2011, the website received about 16,000 visitors since June 2010. 1,000 of which consulted the FAQ page.
Updating the ISGINTT
OCIMF provided a comparison between the ISGOTT, ISGINTT and BSM (Barge Safety Manual). This comparison may facilitate the updating of the ISGINTT safety guide, on the basis of the updated ISGOTT safety guide that is currently scheduled for revision shortly after 2015.
Next meetings - Agenda