Reaction on ISGINTT launch event
June 8th 2010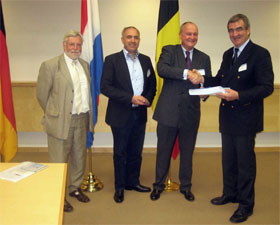 Dr. Gunther Jaegers, Chairman of the ISGINTT Steering Committee, hands over the first printed version of the ISGINTT to Geert van Keer, President of the CCNR.
Persons from right to left:
Geert van Keer, Dr. Gunther Jaegers, Peter van Dalen, MEP, Jean-Marie Woehrling, General Secretary of CCNR.
ISGINTT was launched on 8 June 2010 at the conference centre of the Egmont Palace in Brussels. About 130 participants from various industrial sectors, organisations and administrations participated. They welcomed ISGINTT and agreed that this guideline is an important first step to increase even further safety at the interface of tank-barges and terminals. They pleaded for a strong commitment of the terminal industry and the barge sector to assure that the ISGINTT safety guide will be applied to the activities concerned. However, it was considered crucial to make the text available in the languages of the CCNR (i.e. French, German and Dutch) to assure its implementation. Further, they considered it necessary to integrate the content of the ISGINTT in existing training programmes. The CCNR confirmed that it will continue to support the work of ISGINTT.