ISGINTT Safety Guide now also available in German and Dutch
Strasbourg, 26 November 2013 - Press release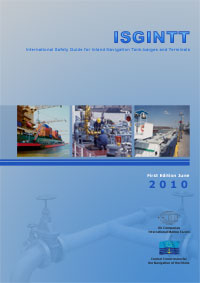 The Central Commission for the Navigation of the Rhine (CCNR) is glad to announce the publication of the International Safety Guide for Inland Navigation Tank-Barges and Terminals (ISGINTT) in German and Dutch. Personnel on inland navigation tank-barges and at terminals in the Rhine area and beyond will now be able to benefit from the guide, which is widely recognised as a valuable tool for enhancing safety in inland navigation.
The purpose of ISGINTT, which has been available in English since 2010 and in French since 2011, is to improve safe transport of dangerous goods at the interface of inland tank barges with other vessels or shore facilities (terminals). The intention is not to replace or to amend current legal requirements, but to provide additional recommendations. ISGINTT is the result of best practices as recommended by the participating organisations.
The document is the outcome of the joint work of the CCNR and the international associations concerned, which are committed to continuously improving safety in the sector, namely the European Chemical Industry Council – CEFIC, the European Barge Union – EBU-UENF, the European Skippers Organisation – ESO-OEB, the European Petroleum Industry Association – EUROPIA, the European Sea Ports Organisation – ESPO, the Federation of European Tank Storage Associations – FETSA, the Oil Companies International Marine Forum – OCIMF, and the Society of International Gas Tanker and Terminal Operators – SIGTTO. Since 2006 these organisations have shared their expertise to produce an inland waterway specific safety guide for tank barges and terminals based on the internationally respected publication "International Safety Guide for Oil Tankers and Terminals" (ISGOTT, 5th edition).
The CCNR would like to thank its Member States, its Secretariat, and the organisations mentioned on the ISGINTT website, without whom the translation of this very comprehensive and highly technical document into the additional two working languages would not have been possible.
The different language versions of the ISGINTT may be downloaded free of charge on the website at Download. Paper and CD-ROM versions of the Guide may also be ordered from the ISGINTT Secretariat at the following address: secretariat@isgintt.org.